The first time I made these wraps, my son said, "Mom, that looks like a rainbow". Something about it was so endearing, and so, the rainbow lettuce wrap was born! I've said it before and I'll say it again: Gluten-free doesn't have to be boring. With nutritious, simple ingredients and a cute name like "rainbow lettuce wraps", it's hard not to enjoy.
Earlier in the week, I made some of my favorite refried black beans.  These meatless lettuce wraps are great for your vegan friends! I love having the prepped ingredients on hand so I can easily make myself a rainbow wrap for lunch.
I love being able to tell the exact ingredients in my food. That's why I love wraps like these! All you have to do is take a look and you can pick out nearly every ingredient used in its whole food form. Whole foods for the win!
There you have it!  I hope you enjoy these as much as I do. Happy cooking!
RAINBOW LETTUCE WRAPS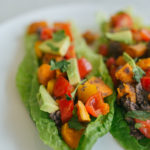 These gluten-free, colorful lettuce wraps are great for an easy lunch or dinner option.
2 sweet potatoes (chopped)
2 cloves garlic (minced)
3/4 teaspoon cumin seasoning
2 Tablespoon extra virgin olive oil
pinch of sea salt
1 cup black beans (You can buy these canned or make them yourself using dry beans. I love making refried black beans for wraps. Check out my recipe for refried black beans in the beginning of the post!)
A handful of grape tomatoes (chopped)
romaine lettuce hearts (washed well and dried (I was able to get 12 lettuce wraps off what I had on hand. The servings may differ depending on the size of the lettuce pieces).)
1/2 avocado (diced- for optional topping)
cilantro (chopped- for optional topping)
Preheat oven to 425 degrees F. Mix sweet potatoes, cumin, salt, and minced garlic in a bowl. Drizzle olive oil over the mixture and toss to coat well. Pour mixture onto a cooking sheet and roast, in the oven, turning frequently until the sweet potatoes are golden brown- roughly 30 to 35 minutes. (

If you'd like to lightly cook your tomatoes, toss them with a little oil and throw these in for the last 10 minutes! Otherwise, keep them raw to add later on).

While sweet potatoes are roasting, prepare the black beans as needed.

If you have a can of black beans, heat on stove on low-medium heat so they're fresh for the wraps.

(PS- I love using refried black beans. You can heat a can of beans on the stove and them mash them or put them into a food processor, along with a pinch of sea salt, to give them that refried-bean texture goodness).

Wash the romaine hearts well and set them to dry on the side.

Once roasted, remove the sweet potato mixture from the oven and set aside to cool just slightly.

Smear refried black beans (or spoon black beans), across a piece of lettuce, then spoon on some of the sweet potatoes.

If tomatoes haven't been added already in the roasting process, now's a great time to top the wraps with the tomato, avocado, and cilantro.