This festive season comes with more sugary treats and cooler weather than usual, which means our immune systems could use all the support they can get!
One of the tastiest and simplest ways my family boosts our immune systems and kicks colds is by whipping up a batch of elderberry syrup. It's both husband and four-year-old approved. My son LOVES taking his "syrup" during the week.

Five years ago, I discovered this magic elixir of purple-gold goodness. I had a nasty cold but was hesitant to take just anything since I was pregnant. I heard about elderberry and after getting the go-ahead from my healthcare provider, I picked a bottle up at my favorite local health food store. IT WAS DELICIOUS. Not to mention it felt great being able to take something natural and safe for me and my growing babe.
Disclosure: Some of the links in this post are affiliate links, which means, at no cost to you, I'll earn a small commission through purchases made through these links.


WHAT IS ELDERBERRY SYRUP AND WHAT ARE THE BENEFITS?
"Elderberry" refers to several varieties of a flowering plant called the Sambucus tree. The most common type is the Sambucus nigra or black elder. These dark berries need to be cooked for consumption, but when they are, they're SO good for you.

Historically, various parts of the elderberry tree have been used for medicinal and culinary purposes.
Naturally high in immune-boosting properties, the dried berries of the Sambucus nigra plant (elderberries) have been shown to provide additional immune-system support against common colds and flu and can also lessen the duration of the sickness.
Elderberries contain vitamins A, B, and C, are filled with antioxidants and have both anti-inflammatory and anti-carcinogenic properties. It packs a powerful punch for stimulating the immune system.
Among many other uses, elderberry syrup has also proven effective in helping fight and protect against bacterial and viral infections and alleviate symptoms of sinus pain as well as seasonal allergies (and all my fellow allergy-sufferers said "AMEN!").
Give your family a health-boost this season and save yourself some money by making the elderberry syrup at home! With a handful of simple, healthy ingredients, it's easy to do. *An added bonus- it makes your house smell heavenly. 
ELDERBERRY SYRUP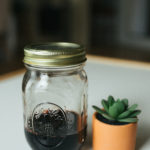 3.5 cups Filtered Water
2/3 cup Freeze Dried Organic Elderberries ((see below for links))
1.5 Tablespoons Organic Grated or Chopped Ginger Root
1 Tablespoon Organic Ground Cinnamon ((I prefer Ceylon Cinnamon))
1 teaspoon Organic Ground Clove
1/2 cup Raw Honey ((I love using local honey for extra immune-boosting. Add more if you'd like. You can also substitute maple syrup for kids under 1-year-old))
Put the filtered water, elderberries, cinnamon, clove, and grated or chopped ginger root into a pan and bring to a boil.

Reduce and simmer on low heat for up for 45 minutes until the liquid has reduced by half.

Let cool and strain the syrup into a glass jar.

Once it has cooled, add the honey and combine well. Store in refrigerator.
You can customize the flavor by adding additional herbs of choice but this is a great base recipe that tastes amazing.
STORAGE: Store in a sealed glass container for up to 6 weeks (it's been known to last longer but it doesn't last over a few weeks in our family of three).

 DOSAGE:
Adults
½ to 1 Tablespoon every 3-4 hours when sick.
½ to 1 Tablespoon a day for general immune support.
Kids
½ to 1 teaspoon every 3-4 hours when sick.
½ to 1teaspoon a day for general immune support.
COMMON QUESTIONS

Q: Should I use special types of ingredients?
Since any herbal product is only as good as the ingredients it's started with, it is ideal to use organic ingredients and filtered water. Raw honey has antimicrobial and antiviral properties that help fight bacterial infections, as well as inhibit viral activity, so it only adds more immune support to the syrup.

Q: Should I use dried elderberries or fresh elderberries?
You can use either one! The dried berries are easier for me to come by year-round. If you use fresh berries, you'll want to double the amount of dried berries used in the recipe.
Q: Where can I get dried elderberries?
I've had good experiences ordering dried organic berries from both from Amazon (I've ordered Frontier and also Starwest Botanical) and from Frontier directly (here). A pound lasts quite a few batches during the season and I even have enough to share.
Q: How often do I take it? What's the dosage?

Adults
½ to 1 Tablespoon every 3-4 hours when sick.
½ to 1 Tablespoon a day for general immune support.
Kids
½ to 1 teaspoon every 3-4 hours when sick.
½ to 1teaspoon a day for general immune support.
It's also tasty drizzled over pancakes. YUM.
Q: If I don't want to make it, where can I buy elderberry syrup?
Target, CVS, or Walgreens also carry the syrup. There are other stores now carrying it so make sure to check online before heading that way. If you're in the Central Florida area, check out Healthy Habits. You can also pick some up online. Here are a few of our favorites that are approved by my four-year-old:
Q: Is elderberry safe for infants, pregnancy, nursing mothers, etc?
In my experience, elderberry syrup is safe for pregnant and nursing mamas (I started taking and making it for that reason!). Due to a rare condition called infantile botulism, honey is not recommended for children under one. You can use a substitute (maple syrup) as a sweetener if making it for Littles. When trying something new, it's always wise to consult your medical professional or doctor before trying it out, especially if you're taking current medications.
Q: How should I store the syrup and how long does it last?
This recipe is more family-friendly and is made without a shelf-life-stabilizer like alcohol.
You'll want to store the syrup in a covered glass jar (like a mason jar or amber bottle) in the refrigerator (on a shelf, not the door). Put a label with the date made on the jar for convenient reference.
Some sources say the syrup can last up to three months, but it's never lasted past a few weeks in our home. We love it so much or bless others with some too. Use common sense- if you see mold growing on the top, it's time to make another batch.
It's not ideal to take every day, all year round. You want to use it as an immune boost when the seasonal allergies hit or there are bugs going around.
Wishing more wellness from my family to yours!
-Maddie